Summerparadise
Can you still remember those days? Warm ground beneath the soles of your feet, grass tickling on your toes? Wind in your hair and the sounds of bells in your ears? Immersing your hands in the cool, rushing stream, drinking the clear spring water. Milk, still warm and fresh from the cow, breaking apart the crisp, fragrant bread. The glorious mountain peaks before your eyes. Experience all of this and much more during your summer vacation in the Gastein Valley! Give yourself and your family the gift of an unforgettable time together.
Hike along 350 kilometres of marked trails taking you out across mountain pastures, or conquer the Alpine peaks accompanied by a Gastein mountain guide. The Hohe Tauern National Park is a veritable treasure trove for all who love the Alpine world! With an appetite whetted by the fresh mountain air, enjoy the home-made delights served to you by the farmers' wives at the 55 Gastein hill farms, which welcome guests from June until late autumn. Families will truly cherish the children-friendly hill farms, which are so easy to reach with Gastein's mountain lifts, as they will the exciting adventures awaiting them at the Pongi Club. With your street or mountain bike, you will be able to explore family-friendly cycling routes or head out over hill and dale along challenging mountain-bike trails! If your passion happens to be golf, you can work on your handicap at numerous courses in the region. But maybe you might also wish to give archery a try, or squeeze in a game of tennis. Above all: Experience all the fun and joy of the most special days in your whole year, during your summer vacation in Gastein!
As the summer draws to a close, Harvest Festival season will have arrived! Tradition and heritage provide you with living insights into rural life in the Gastein Valley. Numerous special events accompany this special time of year.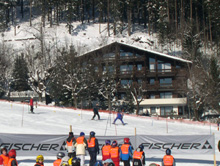 Our Ferienhaus Schiwiese is located amidst the impressive scenery of the Gastein Mountain Range and offering you a cosy and comfortable holidayhome. From the classic and generous furnished apartments you enjoy a stunning view!
In a few minutes walking distance you reach the ALPEN Therme (big spa und indoor pool center), the conference center, the tourist office and all the nice shops in the pedestrian area of Bad Hofgastein. The close location of the Ferienhaus Schiwiese to the valleystation (oder auch lower station) of the Schlo▀alm mountain railway and the woods is a perfect starting point for all your undertakings (oder auch ventures).
We wish you a lot of joy and fun with all the winter sport activities, walking or hiking, golf, tennis, cycling and discovering the scenic attractions in the Gasteinvalley and surrounding areas.
Hopping to welcome you

Ferienhaus Schiwiese | Haltestellenweg 4 | A-5630 Bad Hofgastein | Telefon: +43 6432 8424 | Fax: +43 662 23466 3351 | email: info@ferienhaus-schiwiese.com | admin