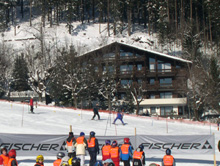 Our Ferienhaus Schiwiese is located amidst the impressive scenery of the Gastein Mountain Range and offering you a cosy and comfortable holidayhome. From the classic and generous furnished apartments you enjoy a stunning view!
In a few minutes walking distance you reach the ALPEN Therme (big spa und indoor pool center), the conference center, the tourist office and all the nice shops in the pedestrian area of Bad Hofgastein. The close location of the Ferienhaus Schiwiese to the valleystation (oder auch lower station) of the Schlo▀alm mountain railway and the woods is a perfect starting point for all your undertakings (oder auch ventures).
We wish you a lot of joy and fun with all the winter sport activities, walking or hiking, golf, tennis, cycling and discovering the scenic attractions in the Gasteinvalley and surrounding areas.
Hopping to welcome you

Ferienhaus Schiwiese | Haltestellenweg 4 | A-5630 Bad Hofgastein | Telefon: +43 6432 8424 | Fax: +43 662 23466 3351 | email: info@ferienhaus-schiwiese.com | admin